Gamer Machine Gun Experience
Step into your own first-person shooter and become a legend! Gear up with high-tech machine guns, step into our battlefield and find your call of duty!
From the Super Shotgun in Doom to the Gravity Gun, you may have more experience with a virtual gun than a real gun. The Gravity Gun may not be real, but what if we told you, you could feel like you are in a video game with real video game weapons?
Whether you are a Mortal Kombat, Elden Ring, Black Ops, or Modern Warfare fanatic, Texas Gun Experience can make your virtual life a reality with the opportunity to shoot some of the most iconic video game guns. Have the unique chance to shoot a powerful and unique weapon in a safe environment! Take gaming to the next level with the Texas Gun Experience Gamer Machine Gun Package.
After this once in a lifetime experience, be sure to check out everything Texas Gun Experience has to offer, including our WWII Experience, Modern Military Experience, and Stealth Experience.
---
The Gamer Machine Gun Experience Includes: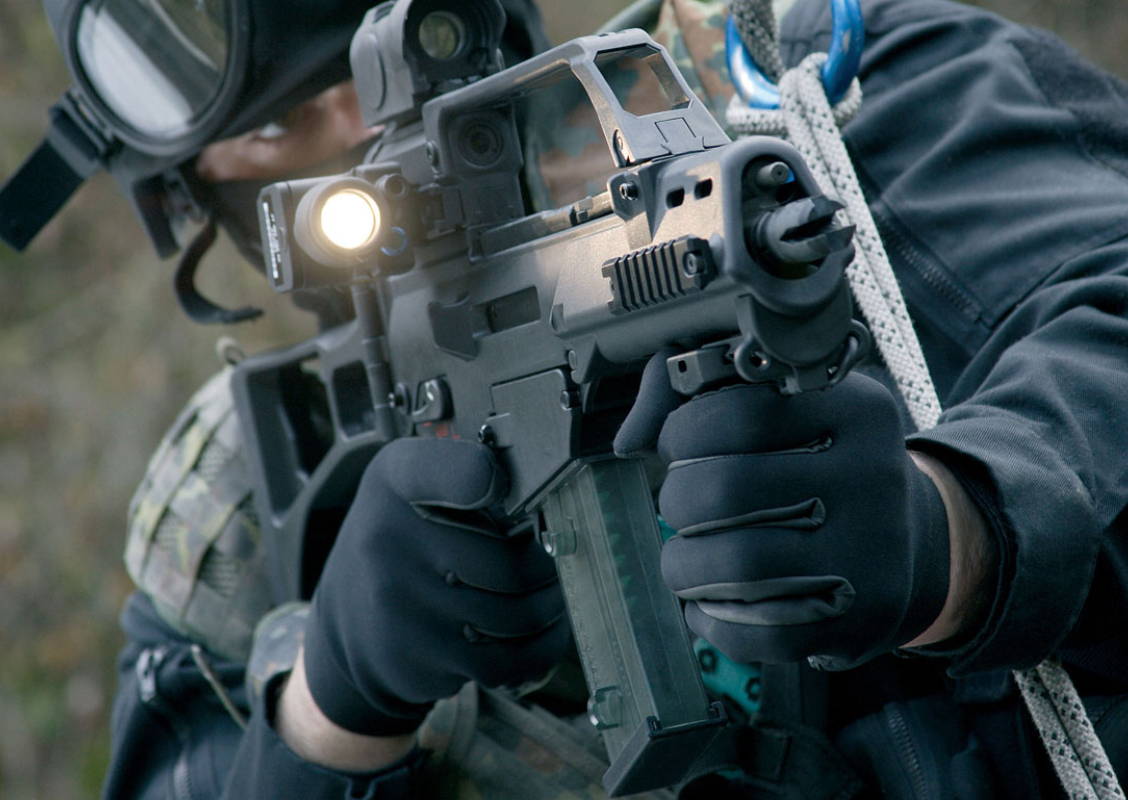 Whether you have watched Batman Begins or been in a high-speed chase playing GTA V, you have probably witnessed the HK G36C in action. It's pretty cool, right? Using this weapon online is awesome but trying it out in person is an entirely different experience.
Developed by Heckler & Koch in the mid-1990s, the G36 is a true modular weapon system in caliber 5.56x 45mm NATO (.223 Remington). Constructed almost entirely of a tough, carbon fiber reinforced polymer material and using a simple, clean shooting, self-regulating, operating rod gas system; the G36 provides the user with a lightweight weapon that delivers high performance with extremely low maintenance. Exhaustively tested and currently fielded with the German and Spanish Armed Forces the G36 is also used by military, law enforcement, and government customers of more than 40 countries.
Manufacturer: Heckler & Koch

Caliber: 5.56 NATO

Operation: Short Stroke Piston

Capacity: 30 Round Magazine

Weight: 6.2 lbs

Barrel Length: 9′′

Rate of fire: 750 RPM
HK G36 in Video Games: Call of Duty: Modern Warfare 3, Payday 2, Battlefield 3, GTA V, Goldeneye, 007, and more! VIDEO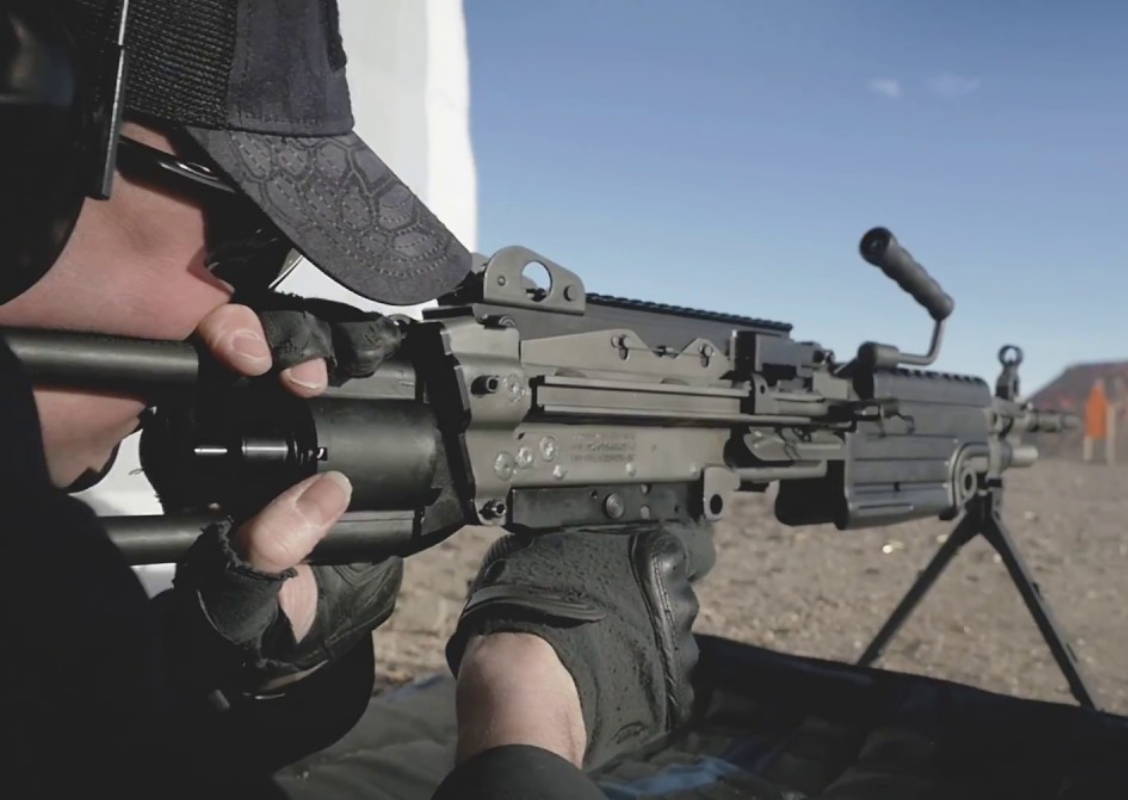 Not only is the FN M249 a primary choice for militaries, but this light machine gun has been in a fair share of entertainment. From a hilarious comedy like the Other Guys to the Call of Duty video game series, see the FN MINIMI in action. Or better yet, take it to the next level and try it out at our indoor shooting range.
The FN M249 SAW (also known as the FN MINIMI) has been a mainstay throughout the U.S. military since 1986 and is currently in service in more than 30 countries. The M249 SAW is designed to be used on the front lines where it really matters, providing crucial support at the infantry squad/fire team level by providing highly accurate fire plus the maneuverability to take the objective. The ergonomically shaped polymer buttstock contains a hydraulic buffer that allows SAW gunners to maintain a high rate of fire with accuracy and effect.
Manufacturer: FN Herstal

Caliber: 5.56x45mm

Operation: Open bolt

Capacity: Belt Fed

Weight: 17 lb.

Barrel Length: 20.5"

Overall Length: 40.75"

Rate of fire: 775 RPM
FN M249 in Video Games: Call of Duty 4: Modern Warfare, Call of Duty: Modern Warfare 3, Rainbow Six Vegas 2, Insurgency, and more! VIDEO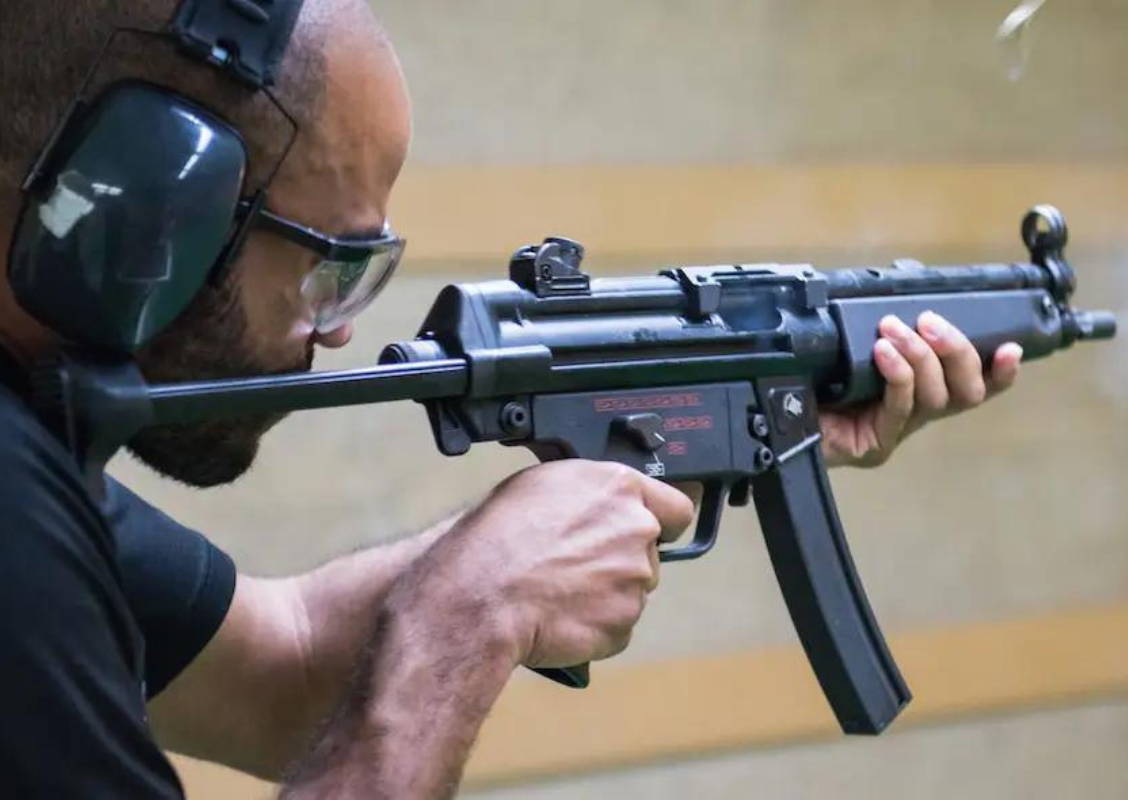 The HK MP5's popularity can be seen in a long list of films, tv shows, and video games, making it a classic choice for entertainment. Watch iconic action films such as Iron Man 2, Mr. & Mrs. Smith, and The Dark Knight to see the HK MP5 in action, or try it out yourself at Texas Gun Experience.
Probably the most popular series of submachine guns in the world, it functions according to the proven roller-delayed blowback principle. Tremendously reliable, with maximum safety for the user, easy to handle, modular, extremely accurate and extraordinarily easy to control when firing – HK features that are particularly appreciated by security forces and military users worldwide. There are now well over 100 variants of the MP5 available to cover the large number of different tactical requirements for a wide variety of users. whether on land, on the water or in the air – The MP5 is universally applicable, making it usable in all areas and under all conditions.
Manufacturer: Heckler & Koch

Caliber: 9mm

Operation: roller-delayed blowback

Capacity: 30 Round Magazine

Weight: 5.6 lbs

Barrel Length: 8.9′′

Rate of fire: 800 RPM
HK MP5 in Video Games: Ghost Recon, GTA IV, Call of Duty: Blacks Ops II, Resident Evil: Revelations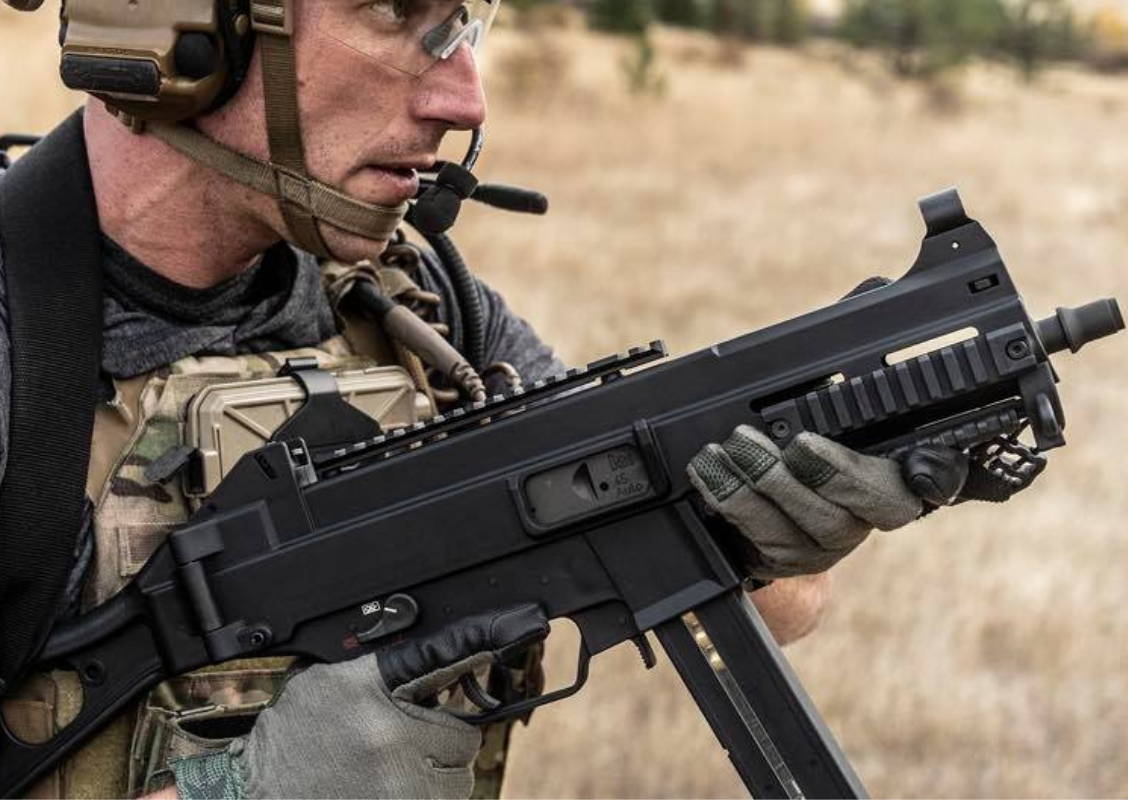 Seen in London Has Fallen, We're the Millers, The Pink Panther 2, Iron Man, and more, the HK UMP 45 is another popular pick for a wide variety of films. Whether you are an action film buff or a video games fanatic, the HK UMP 45 is an iconic weapon for you to experience.
With the UMP, Heckler & Koch has developed a versatile submachine gun the likes of which did not exist before on the world market. A weapon that can cover three calibers simply by exchanging a few assemblies: 9 mm x 19, .40 S&W and .45 ACP. The UMP combines top-rate performance with simple handling and high safety standards. The modular fiber-reinforced polymer receiver guarantees the necessary ruggedness with minimized overall weight. As a typical member of the HK family of weapons, the UMP is a highly effective, economical alternative for military and law enforcement applications.
Manufacturer: Heckler & Koch

Caliber: .45 ACP

Operation: Blow Back, Closed Bolt

Capacity: 25 Round Magazine

Weight: 5.4 lbs

Barrel Length: 8′′

Rate of fire: 600 RPM
HK UMP 45 in Video Games: Call of Duty: Modern Warfare 2, Tom Clancy's Rainbow Six Siege, Battlefield 3, and more! VIDEO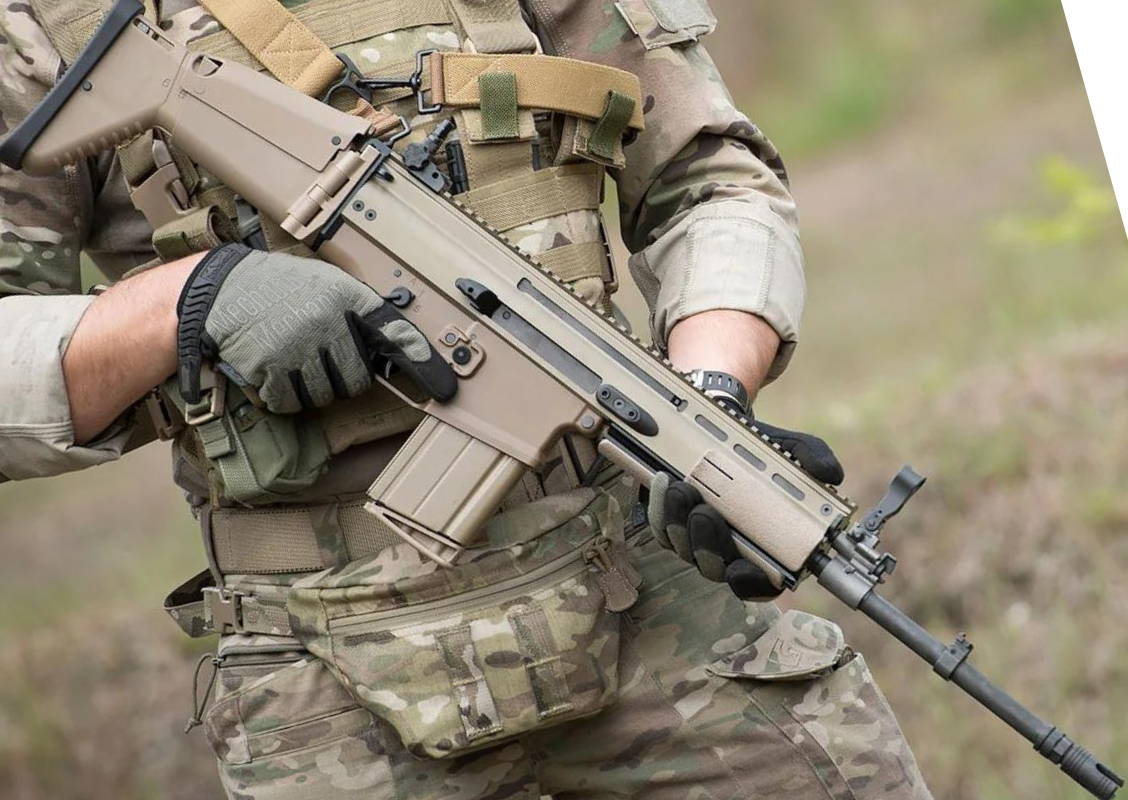 From Jason Bourne, Kingsman: The Secret Service, to Fast & Furious 6, the FN SCAR® 16 is a weapon you can't miss. If you are a gamer, you have definitely come across this weapon more than a few times. You may not be fighting zombies in real life but shooting video game weapons is a once in a lifetime experience.
Chambered for the high-velocity 5.56x45mm NATO/.223 Remington cartridge, the selective-fire FN SCAR® 16's innovative gas-operated, short-stroke piston system reduces fouling for greater reliability. The FN SCAR® 16 system features three user-interchangeable, free-floating cold hammer-forged MIL- SPEC barrels with hard-chromed bores and three-prong flash suppressors. Fully ambidextrous operating controls instantly adapt the FN SCAR® 16 to any user. The receiver-integrated MIL-STD-1913 optical rail plus three accessory rails enable mounting of a wide variety of tactical lights and lasers. The side-folding polymer stock is fully adjustable for comb height, length of pull, and is colored authentic Flat Dark Earth (FDE).
Manufacturer: FN Herstal

Caliber: 5.56 NATO

Operation: Short Stroke Gas Piston

Capacity: 30 Round Magazine

Weight: 6.7 lbs

Barrel Length: 10′′

Rate of fire: 625 RPM
FN SCAR in VIDEO Games: Left 4 Dead 2, Goldeneye 007, Call of Duty: Modern Warfare 2, and more! VIDEO