War never changes, but the setting and firearms do. Fire machine guns used all around the world in current conflicts. In our Machine Gun Experiences, all machine guns include ammunition. Other Machine Gun Experiences include our WWII, Gamer, and Stealth experiences. Whether you are a history buff or enjoy new adventures, you won't want to miss out on getting the chance to shoot automatic firearms.

In the 19th Century, the desire for a firearm that did not need reloading became very pressing, and many inventors took the challenge. One of the
early successful attempts was the Gatling Gun. This hand crank machine gun was the first step to what we now know as a modern-day machine gun. Before long, wars were changed forever.

In the 1884, Hiram Maxim succeeded in creating the first fully automatic machine gun, the Maxim Gun. The Maxim Gun used an ammunition belt,
rifle cartridges, and could operate entirely off mechanics. During World War I, also known as the "Machine Gun War," the use of automatic
weapons continued to increase in the development of trench warfare, and the Maxim gun became standard issue of the British army. Quickly, soldiers realized this heavy machine gun needed to become lighter and more portable.

Maxim's invention started an influx of other newer innovations, including the submachine gun and light machine gun. In the 1960s, the Mini Gun was developed, a submachine gun using an electric motor and revolving cylinder. This submachine gun quickly became crucial to the US army
during the Vietnam war.

Since then, modern weapons have changed from the original Maxim gun, but, without the invention of the machine gun, American history and world
history would be drastically different.
---
The Modern Military Machine Gun Experience Includes: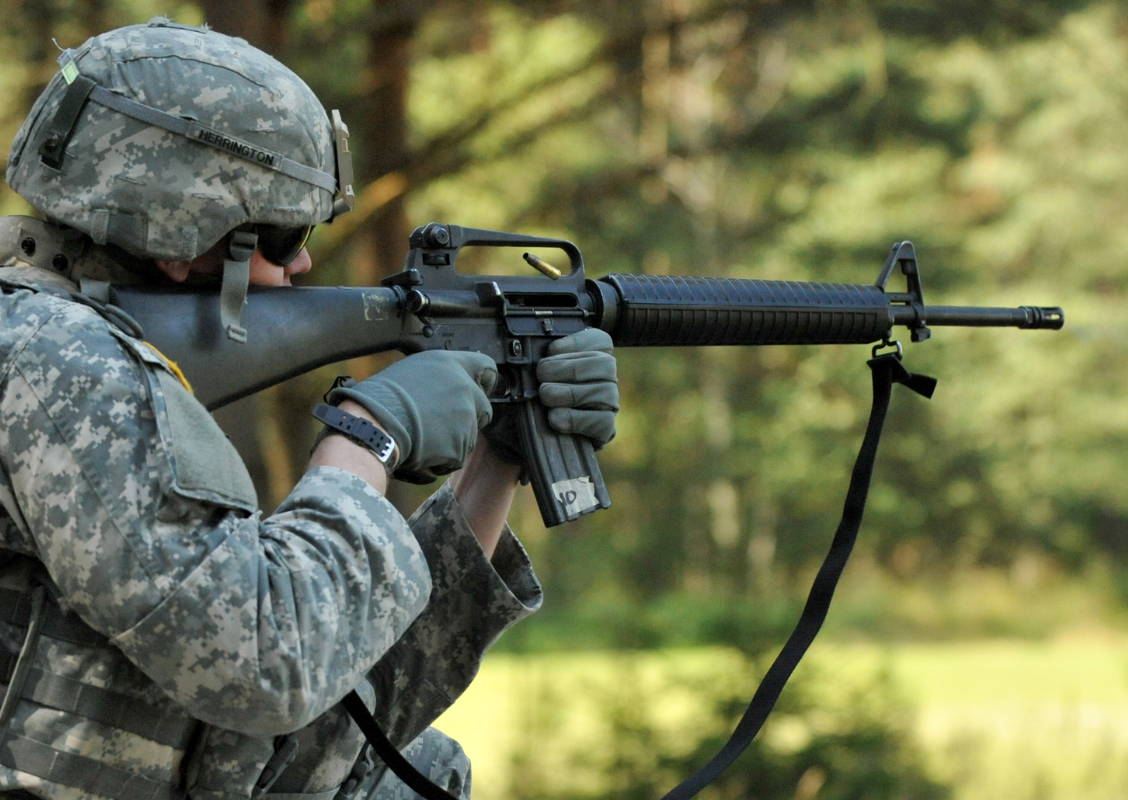 The FN M16A4 is an M16A2 with a removable handle and full-length quad picatinny rail. The M16A2
weapon system was developed at the request of the United States Marine Corps to improve on the
M16A1 and went into large scale production by 1987. Improvements included a thicker barrel in front of
the front sight, modified flash suppressor (closed on bottom), new polymer buttstock (lighter and
stronger, faster barrel twist (from 1:12 to 1:7) and spent case deflector for left-hand users.
The M16A4 is chambered to fire the 5.56x45mm (.223) NATO cartridge. It is a select fire rifle having
semi-automatic and three-round-burst fire capabilities. Cartridges are magazine fed, and firing is
achieved via a direct impingement gas operating system.
Manufacturer: FN Herstal
Caliber: 5.56x45mm NATO
Operation: Direct impingement
Capacity: 30 Round Magazine
Weight: 6.36 lb.
Overall Length: 29.75" - 33"
Effective Range: 500 - 600m
Rate of fire: 700 - 950 RPM
Arsenal SAM7 SFK (7.62 X 39)
The AK-47 is one of the oldest assault rifles in the world, created in the mid-1940s and implemented into
the Soviet Armed Forces in 1949. Since then, it's grown to be perhaps the most popular assault rifle,
with at least 75 million units built.
Named the "Kalashnikov" or "AK" for short, this assault rifle is well-known in pop culture. This rifle also
has a long history with political, revolutionary, and terrorist movements. It started as a pivotal part of
the Soviet Army following World War II. Because of the AK-47's durability and relatively low production
costs, the rifle quickly spread around the world, often on the black market or as an arms deal. That
makes this an especially good choice for political or history buffs.
Manufacturer: Arsenal Inc.
Caliber: 7.62 x 39 mm
Total length: 29.92 in. (970 mm)
Weight w/o magazine: 7.1 lbs
Muzzle velocity: 2,329 fps (710 m/s)
Effective range: 500 m (547 yds)
Maximum range: 1350 m (1,480 yds)
Rate of Fire: 600 RPM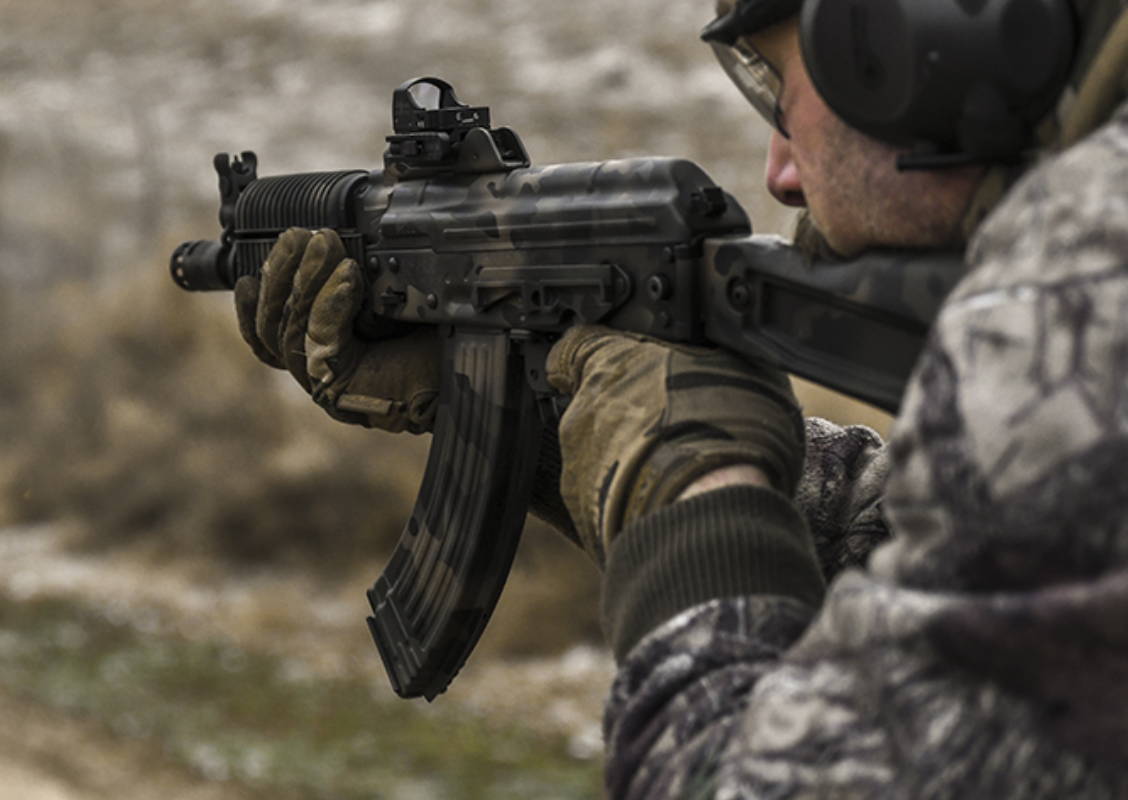 The FN M240 family of medium machine guns (7.62x51mm NATO) has long been employed by all
services of the U.S. Armed Forces. The FN® M240B is the "go to/can do" medium machine gun for all
branches of the U.S. military, offering absolute reliability, extended range, and an exceptional service
life. This weapon's high volume of fire makes it the principal suppressive fire instrument for the infantry
platoon and company. The M240 is one of the most essential and widely used small arms in Iraq and
Afghanistan. The M240 B's cold hammer-forged MIL-SPEC barrel has a hard-chromed bore for longer life
and improved accuracy. The receiver is machined steel and is equipped with a top-mounted MIL-STD1913 optical rail. The cross-bolt safety and curved trigger help enhance operator control.
Manufacturer: FN Herstal
Caliber: 7.62x51mm NATO
Operation: Open bolt
Capacity: Belt Fed
Barrel Length: 21.7″
Overall Length: 48.5″
Rate of fire: 650 RPM
Developed by Heckler & Koch in the mid-1990s, the G36 is a true modular weapon system in caliber 5.56
x 45mm NATO (.223 Remington). Constructed almost entirely of a tough, carbon fiber reinforced
polymer material and using a simple, clean shooting, self-regulating, operating rod gas system; the G36
provides the user with a lightweight weapon that delivers high performance with extremely low
maintenance. The G36 uses an HK-proprietary operating system found on several HK rifles, including the HK416. The G36 gas system uses a piston to drive an operating rod to control the function of the bolt, preventing propellant gases and the associated carbon fouling from entering the weapon's interior. Exhaustively tested and currently fielded with the German and Spanish Armed Forces the G36 is also used by military, law enforcement, and government customers of more than 40 countries.
Manufacturer: Heckler & Koch
Caliber: 5.56 NATO
Operation: Short Stroke Piston
Capacity: 30 Round Magazine
Weight: 6.2 lbs
Barrel Length: 9″
Rate of fire: 750 RPM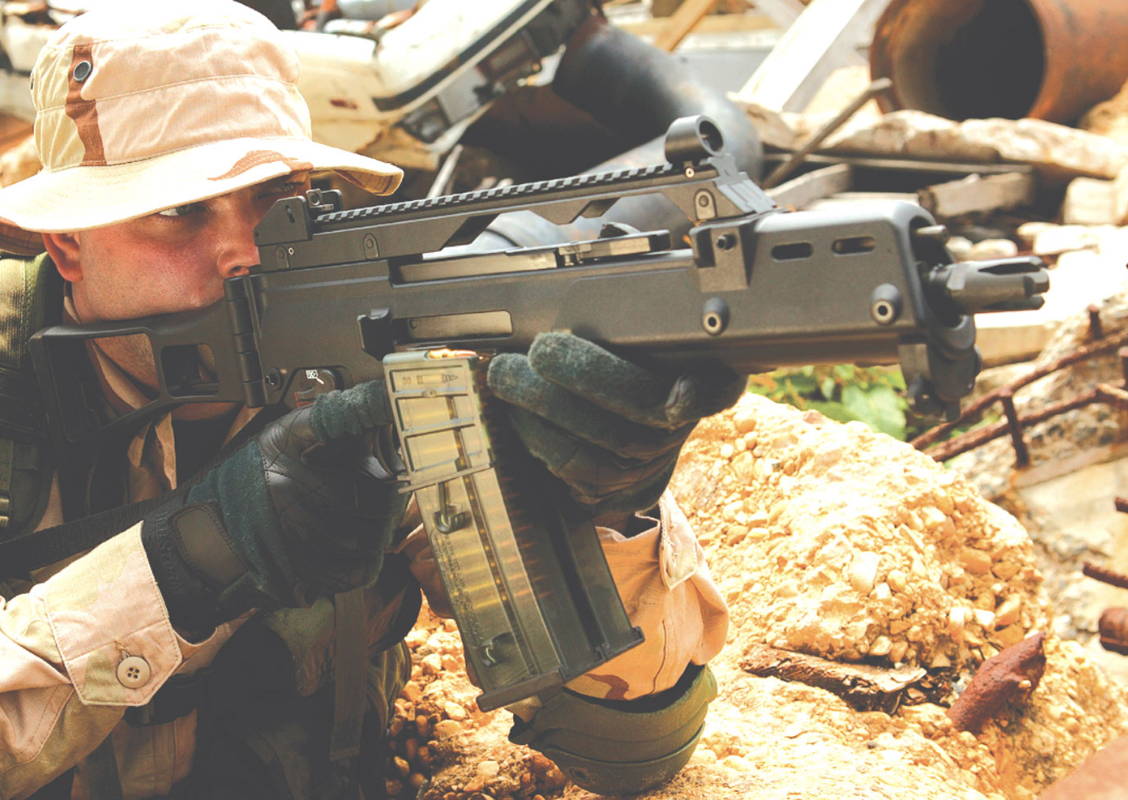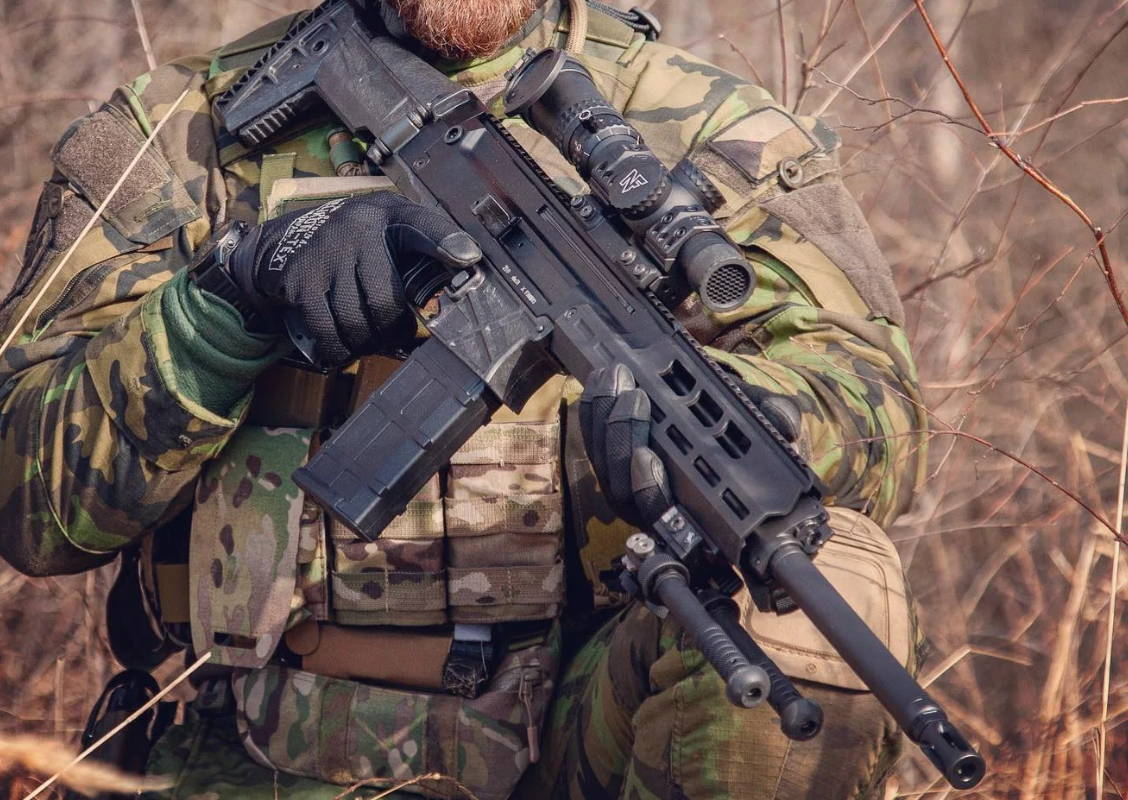 The CZ 805 BREN modular assault rifle is a gas-operated (short-stroke gas piston) selective fire selfloading rifle with a rotating breechblock and cold hammer forged chrome lined barrel manufactured by CZUB. The modular design currently enables users to change the caliber of the weapon
to 5.56x45mm or 7.62x39mm intermediate cartridges by quick change of barrel with gas tubes, breech
block, magazine bay and magazine.
CZ BREN is a series of battle rifles, namely the CZ 805 BREN, CZ 807 and CZ BREN 2, created by Česká
zbrojovka Uherský Brod in 2006 to replace the Sa vz. 58 in the Czech Army. The CZ 805 BREN is used by
the Czech military, Indonesian special forces, Mexican police, Slovak Army, Egyptian airborne
forces and Republican Guard.
Manufacturer: CZ (Česká zbrojovka Uherský Brod)
Caliber: 5.56
Magazine Type: 30 Round Magazine
Frame: Carbon Fiber-reinforced Polymer
Barrel Length: 14.17 in
Weight: 5.86 lbs
Overall Length: 25.8 in
Rate of fire: 850 RPM