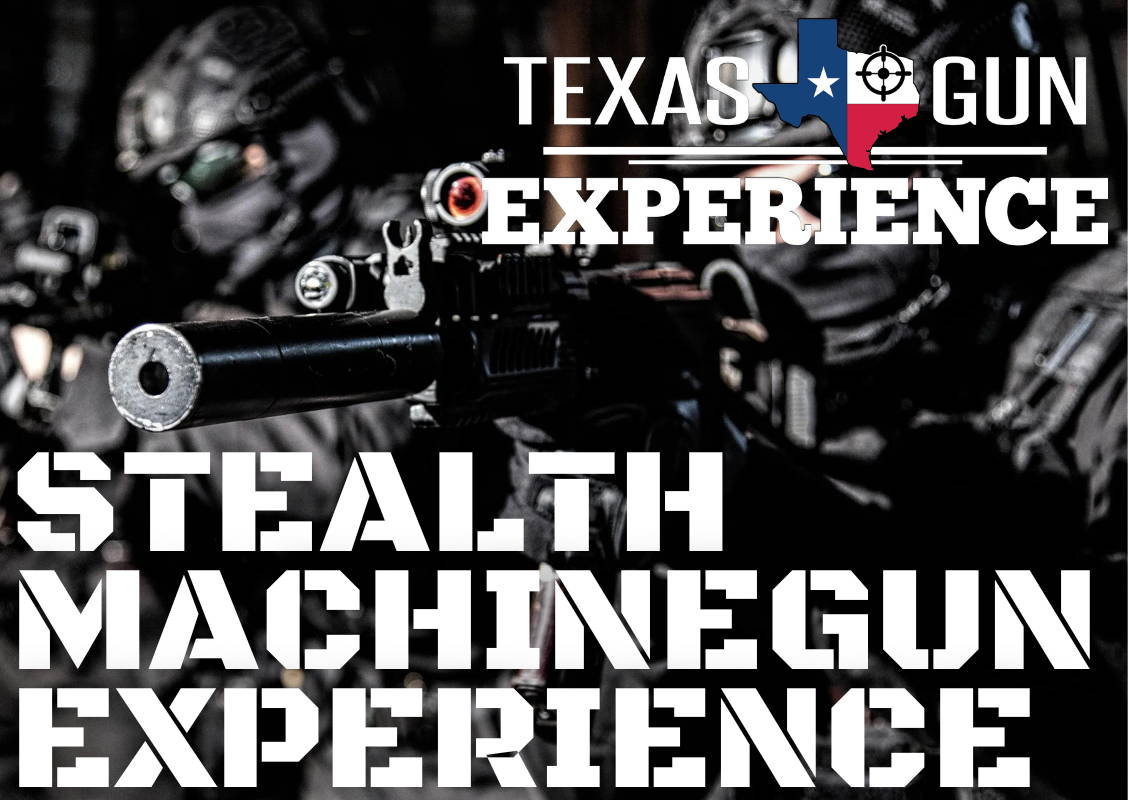 Stealth Machine Gun Package: Special Forces Weapons
Have you ever wondered what it's like to be on special operation forces? Well now, you can! Experience a special operations adventure with a handpicked package of Special forces weapons that showcase weapon systems used by SWAT, Special forces, United States Navy SEALs, and more!

Enjoy the weapons systems without the danger of a grenade launcher and the demanding physical requirements. Yes, night vision would be cool, but trust us, this machine gun package is awesome! So, get your team members, aka your SEAL team, and get this mission started!
Engage stealth mode with this all suppressed machine gun package. It is a quiet riot! All machine guns include ammunition.


If you don't know what special forces are, don't worry this package can still be a match for you! Special forces are several military units that conduct special operations, including demolitions, reconnaissance, counterterrorism, search and rescue, and offensive raids. Their goal is to get in and out, quietly and secretly. The members of these stealth teams train hard and work harder because their life and often others lives depend on it.
What Are Some Examples of Special Forces?
Our U.S. Armed Forces do a great deal to keep our country safe. Their secretive operations can be implemented by land, air, or sea, so there are several Special forces teams for differing missions.
Training for Special Forces is different for each "team!" To become an Army SPEC OP, Army Special Forces Soldiers start out their career at basic combat training, learning fundamentals of marksmanship, and other essential skills. The next step is advanced individual training. After completion, these candidates move on to infantry school where they learn skills about small arms, close quarters combat, and other military weapons to become a qualified SPEC OP. To become a Special Forces Weapons Sergeant, you must go on to further training to become a part of the highly skilled Green Berets.
Army Green Berets

Army Night Stalkers

Army Rangers

Delta Force
Navy SEALs

Navy SEALs Missions

Navy SWCCs
Marine MARSOC

Marine RECON

Marine RECON Missions
Air Force Special Tactics
---
The Stealth Machine Gun Experience Includes:
---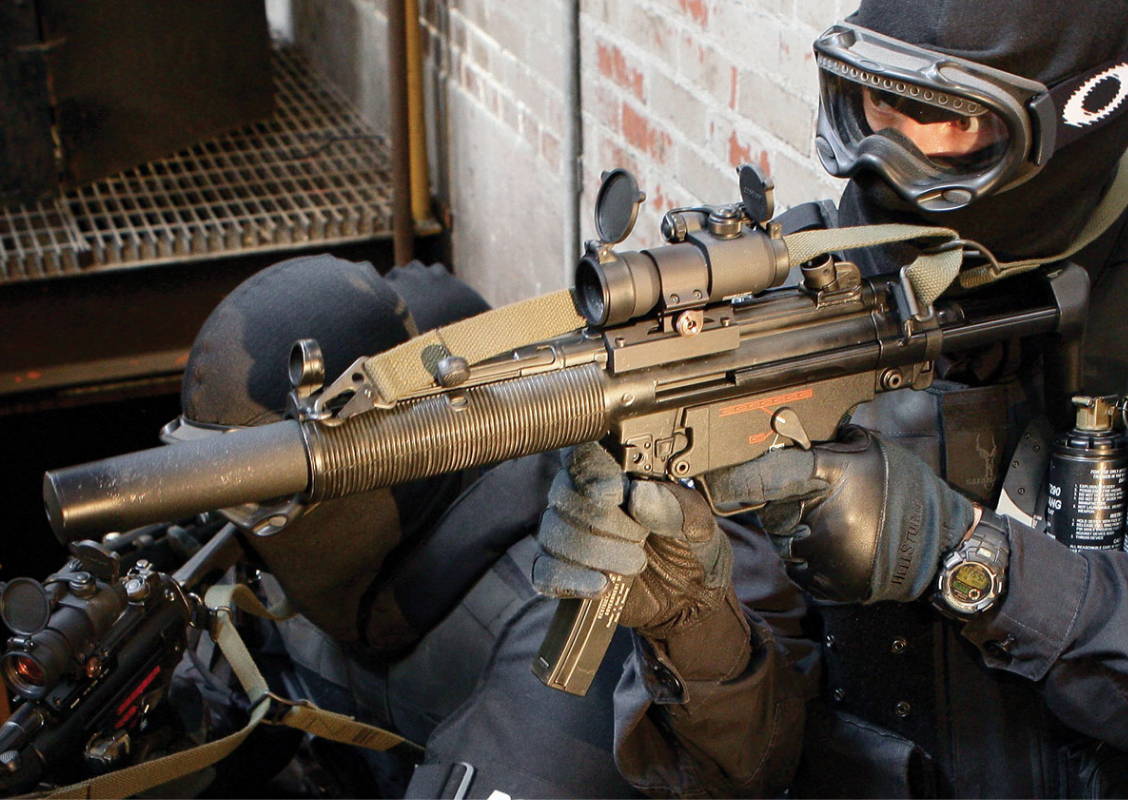 This whisper quiet firearm is used by US Special forces and SWAT. Known for unfailing reliability and low recoil. Probably the most popular series of submachine guns in the world, it functions according to the proven roller-delayed blowback principle. Tremendously reliable, with maximum safety for the user, easy to handle, modular, extremely accurate and extraordinarily easy to control when firing. In developing the silenced MP5SD, Heckler & Koch responded to the special requirements of special forces units. Despite its integrated silencer element, it has the same length and shape as an unsilenced submachine gun. Unlike most conventional silenced submachine guns, it fires standard ammunition types with the same effect. The integrated silencer element suppresses the muzzle flash extremely effectively, as a result of which the weapon is also excellent for night operations using low-light amplifiers.
Manufacturer: Heckler & Koch
Caliber: 9mm
Operation: roller-delayed blowback
Capacity: 30 Round Magazine
Weight: 6.2 lbs
Barrel Length: 5.7′′
Rate of fire: 700 RPM
The APC series was designed in the 2000s, as a modern submachine gun that would be cheaper to produce than the intermediate cartridge assault carbines that were seeing an increase in military usage during this period. Before this point, B&T sold the MP9 and had experience in the manufacture of submachine guns, as well as years of feedback from customers on possible enhancements. The APC uses a straight blowback gas system. The addition of a proprietary hydraulic buffer system in the receiver back plate helps control recoil. The APC's upper receiver is made from aerospace-grade alloy, and the APC uses the same magazines as the MP9. The APC's mechanical sight is composed of an adjustable ghost ring type rear sight and a cylindrical sight.
Manufacturer: Brügger & Thomet
Caliber: 9×19 mm
Total length: 23.5 in. (597 mm)
Weight w/o magazine: 5.5 lbs
Muzzle velocity: 1082 fps (330 m/s)
Effective range: 100 m (109 yds)
Maximum range: 350 m (382 yds)
Rate of Fire: 1080 RPM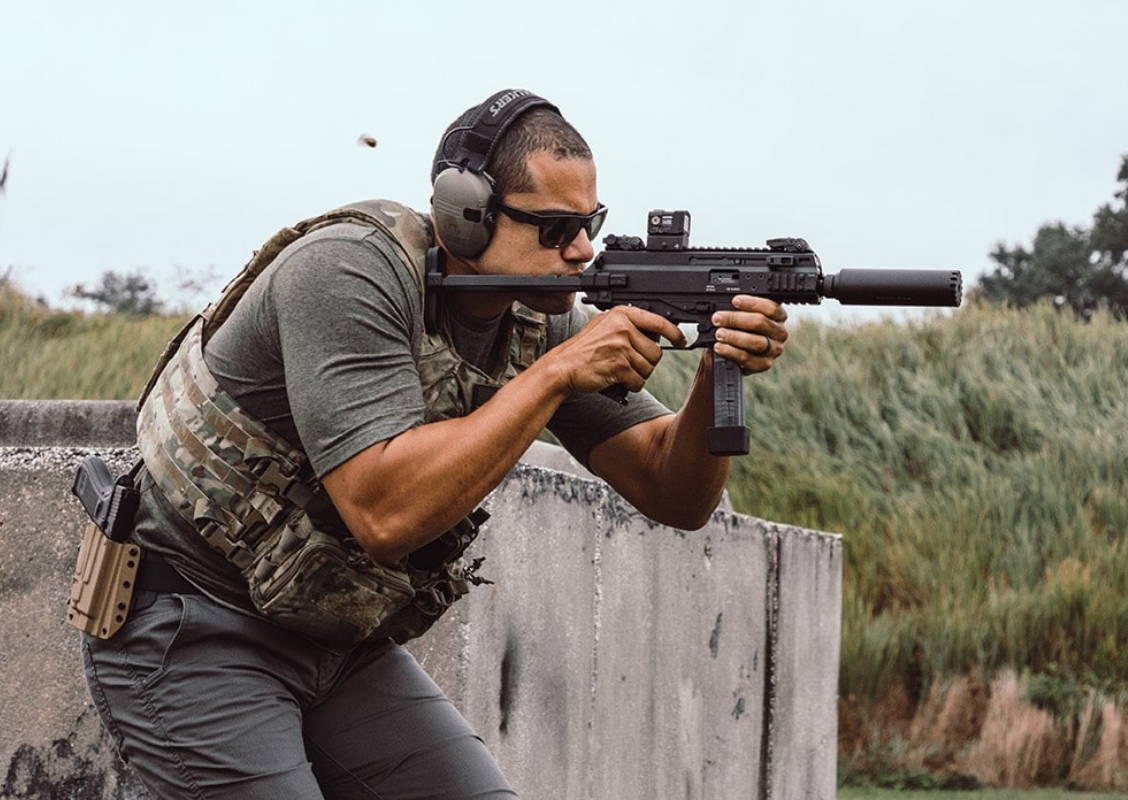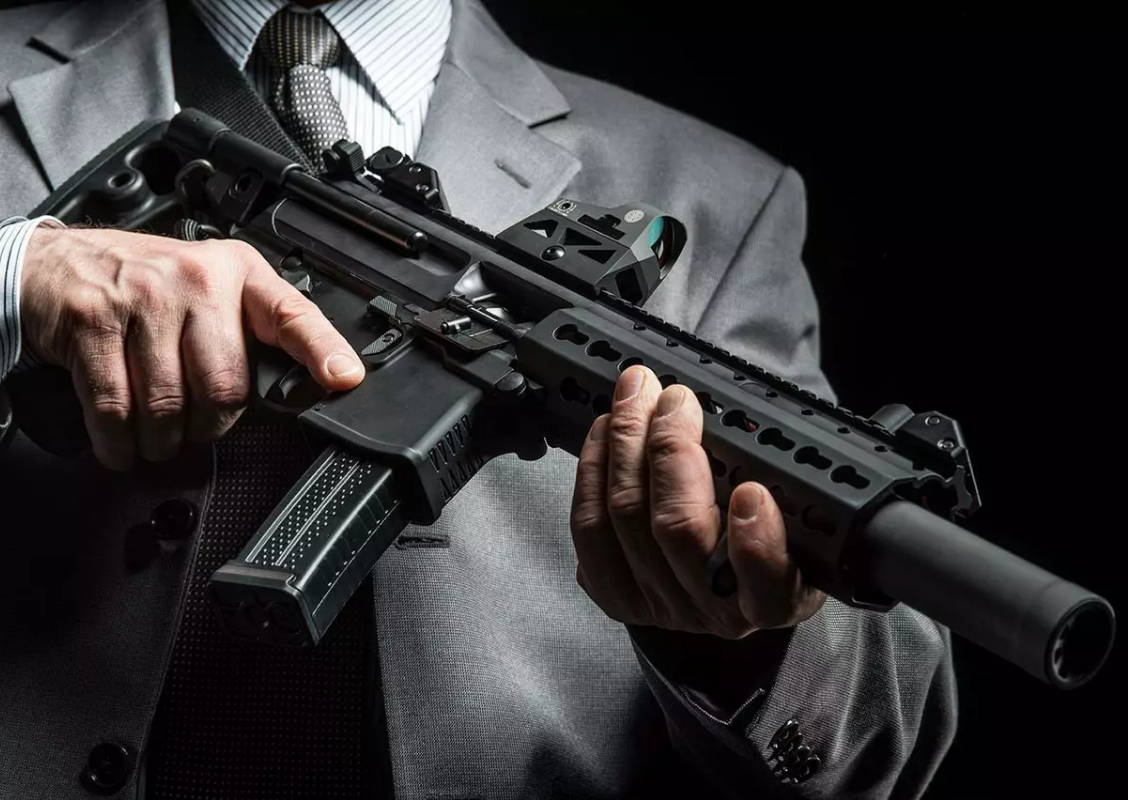 The SIG MPX is a gas-operated suppressed submachine gun designed and manufactured by SIG Sauer and is primarily chambered in 9×19mm Parabellum cartridge. It is gas-operated firearm, featuring
a closed, rotating bolt. These design features, rare in submachine guns, were chosen to enhance the
safety of the user and to have a more reliable firearm. It was designed in 2013 and was released to the general public in 2015. It features the SIG Sauer short stroke push-rod gas system to reduce the recoil and improve the reliability of the weapon. The MPX, in its second generation, features a system that would allow for conversion from 9mm to .357 SIG or .40 S&W. SIG Sauer also used the same gas piston system to develop the SIG MCX carbine.
Manufacturer: SIG Sauer (DFWSS)
Caliber: 9mm
Operation: Short Stroke Gas operated
Capacity: 30 Round Magazine
Weight: 6.1 lbs
Barrel Length: 8′′
Rate of fire: 850 RPM
The MP7 represents a new generation of enhanced-performance submachine guns that bridge the gap
between assault rifles and conventional submachine guns. Developed as a genuine personal defense
weapon, it far exceeds the NATO requirements profile. The MP7 is extremely compact, lightweight, can
be used in very confined spaces, and is practically recoil-free. It can be carried continuously, making it
the ideal personal weapon for the soldier of today. Those who carry it will be suitably armed for the
broadest range of US operations. Comparing the calibers, the penetration and terminal effects of the 4.6 mm x 30 cartridge are several times those of the standardized 9 mm x 19 cartridges. By way of illustration: The new high-performance caliber penetrates the NATO CRISAT TARGET (1.6 mm titanium and 20 layers of Kevlar) even at 200 m.
Manufacturer: Heckler & Koch
Caliber: 4.6 x 30
Operation: Short stroke gas
Capacity: 30 Round Magazine
Weight: 4.2 lbs
Barrel Length: 7.1′′
Rate of fire: 950 RPM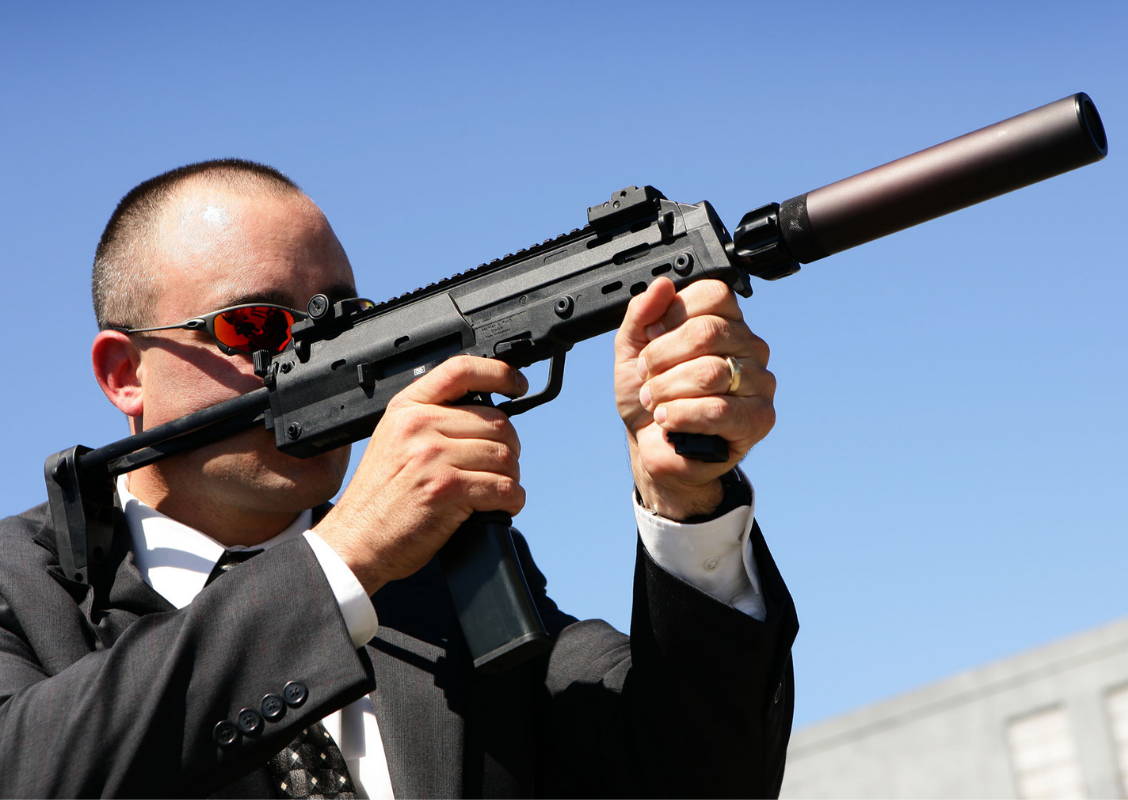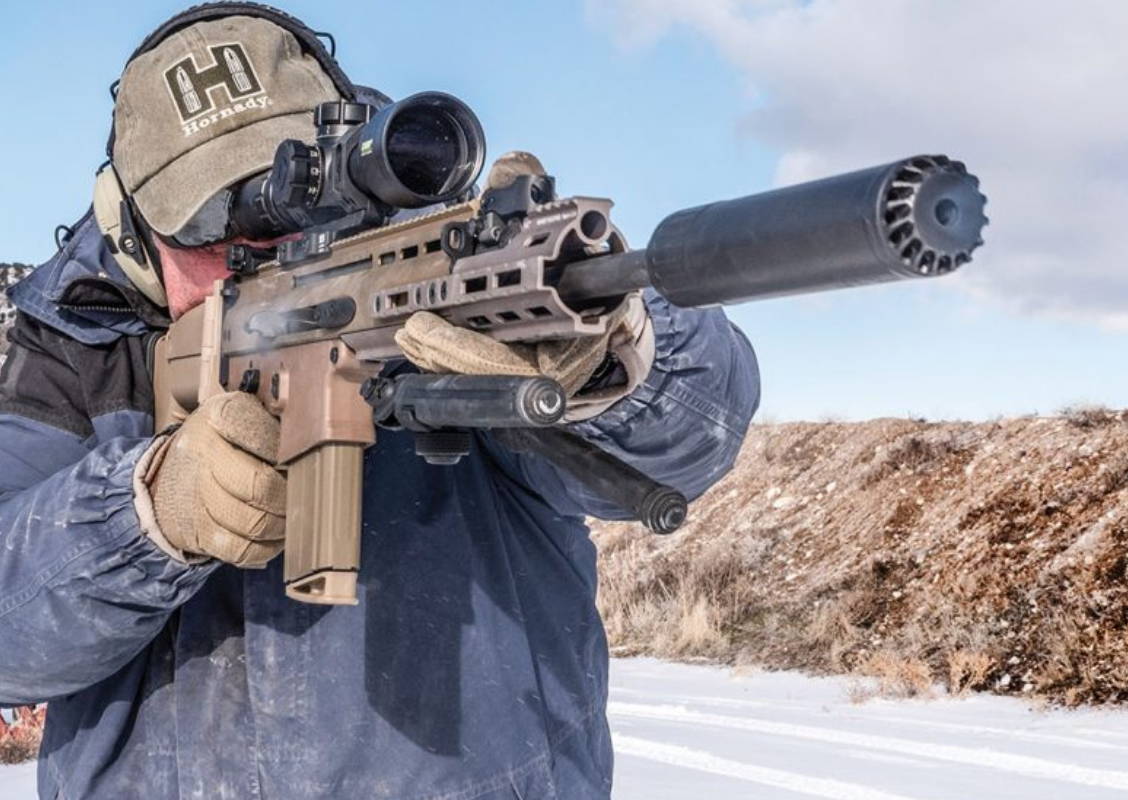 The SCAR (Special Operations Forces Combat Assault Rifle) is specifically made for Special Operations Command (SOCOM) and is also used by Navy SEALs. Chambered for the high-velocity 5.56x45mm NATO/.223 Remington cartridge, the selective-fire FN SCAR 16's innovative gas-operated, short-stroke piston system reduces fouling for greater reliability. The FN SCAR® 16 system features three user-interchangeable, free-floating cold hammer-forged MIL-SPEC barrels with hard-chromed bores and three-prong flash suppressors. Fully ambidextrous operating controls instantly adapt the FN SCAR 16 to any user. The receiver-integrated MIL-STD-1913 optical rail plus three accessory rails enable mounting of a wide variety of tactical lights and lasers. The side-folding polymer stock is fully adjustable for comb height, length of pull, and is colored authentic Flat Dark Earth (FDE).
Manufacturer: FN Herstal
Caliber: 5.56 NATO
Operation: Short Stroke Gas Piston
Capacity: 30 Round Magazine
Weight: 6.7 lbs
Barrel Length: 10′′
Rate of fire: 625 RPM
Feel Like a Special Operations Weapons Sergeant at Texas Gun Experience