Located inside of the Texas Gun Experience

With Cash for Guns, you can have confidence in knowing that you are selling your firearms to a licensed firearms dealer.
---
All payments are made in CASH!
Bring your firearm in today for a quote.

---
Have a gun sitting around collecting dust? Give us a call. We will buy one gun or a hundred.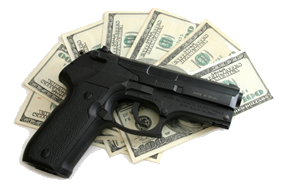 ---
We must see the gun to make an offer/no offers will be given over the phone. Please have a price in mind that you want for your guns.
---
Do you have larger quantities to sell? Call us, and we can make it easy by coming to you!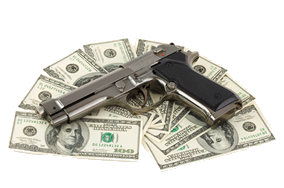 ---
What is the Best Way to Sell a Used Firearm
To trust that your firearm will get into the right hands, it is always best to sell your used firearm at a reputable gun shop. Our licensed firearms dealers know how to properly provide an official record of transfer and bill of sale, so you don't have to stress. At Texas Gun Experience, our employees also can effectively store and take care of firearms to ensure everyone's safety and provide you ease of mind.
Are you a gun owner looking to sell your gun in the Dallas / Fort Worth area? Don't worry, Texas Gun Experience is your source. Texas Gun Experience is a locally owned and operated business in Grapevine, TX that treats customers with respect and professionalism. Our family has been in the gun business for over 30 years in the DFW area, and we strive to give the best customer service. As military veterans, the owners are committed to supporting 2nd amendment rights and providing a safe avenue for citizens to sell firearms. Sell your gun today at Cash for Guns, a high-quality Texas Gun Trader!
What Do I Do with My Unwanted Firearm?
Bring your firearm in today for a quote from our gun shop and firearms appraiser. We must see the gun to make a cash offer, and no offers will be given over the phone. Please have a fair price in mind that you want for your guns. And yes, we pay CASH for your gun or gun collection!
Why Choose Us as Your Licensed Dealer?
Ever asked yourself "how do I sell my gun"? As a Texas gun trader, we have the answer. We make selling your firearm collection easy and you can get more money for your guns at Cash for Guns. All payments are made in CASH so contact Cash for Guns today to sell your gun.

We will make a fair offer on any gun old or new and pay in CASH for your firearm sales! Since you are not selling your gun to a private dealer, you can rest easy knowing that your guns will not be sold to individuals without doing a background check and abiding by federal law, local law, and Texas law.

As an FFL dealer and holder, we help with Federal Firearm License (FFL) Transfers and make every firearm transaction easy at our gun store!

And remember, no mailed check or credit. We give CASH!
What If My Firearm Has Rust, Fowling, or Excessive Wear?
Bring it in! We buy old and new firearms. Our team will take a look at your gun and give you a price. There are a few reasons we would not purchase your firearm. For us to purchase, the firearm must have a serial number, even if it is a homemade firearm. We also do not accept machine guns or restricted assault weapons. For questions or legal advice about your firearm, check out the Bureau of Alcohol, Tobacco, Firearms, and Exsplosives.
Stop by Texas Gun Experience