In the wake of SHOT SHOW Cancelling, we decided to throw our own party, and everyone is invited! We have put together an "A-List" list of Manufacturers, Influencers and Professionals to breakdown, demo and engage with followers on new product, training and events happening this year.
---
This event is FREE to the public with VIP & Virtual Experiences available for purchase.
---
Attendees can check out machine guns from the TGE armory, Sign Up for Scheduled Workshops, join our VIRTUAL Broadcast, Network with Brands and Influencers & Share a drink when it is over!
---
Proceeds & Donations go to benefit E3 Foundation, a non-profit dedicated to providing HUNTS for Veterans.
GET YOUR TICKETS FOR THIS EVENT
---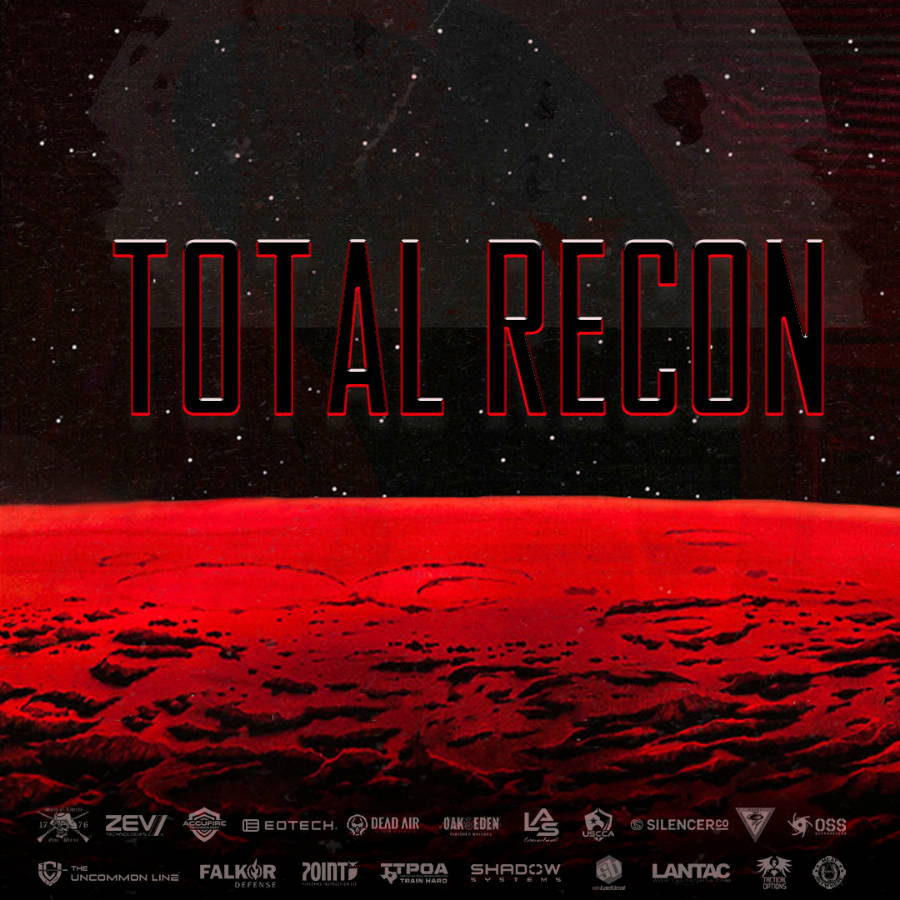 Total Recon packages Include:
Free Access:
On site access to all brands, influencers, and product.

Virtual access to live stream of Event.
VIP Access ($100):
VIP credential grant access to Friday evening show.

Six (6) free demo magazines.

One-on-one access to brands, trainers, and personalities on site.

Virtual access to live stream of Event.

Complimentary Afterparty drinks and snacks.
---
Schedule for IRL Streaming Broadcasts
Friday, January 29th

Time: 6-7pm
"VIP Preview Show"

Friday Night @ Texas Gun Experience

Theme: Podcast with UnCommonLine
Here, we will Introduce brands and how they're involved with Total Recon and announce the different education/demonstrations happening during Saturday's event.
What the fundraiser is for and plug gifts from the sponsors that will be raffled away. Pull names for giveaways to get excitement going! Talk about hot topics in the industry and take questions from chat. Wrap-up with the schedule of events for Saturday and when to tune in first thing in the morning.
---

---
"WELCOME TO THE SHOW"
Saturday Morning @ Texas Gun Experience
Theme: Introduction to the Event with Chris Reeves and James Reeves from THE FIREARMSBLOG
Introduce and Welcome everyone to the event. Talk about the schedule and how viewers can engage with us. Introduce James Reeves from The Firearms Blog. Talk about their site and what's new for 2021. Get perspective from James on gear and what he's anxious to check out and demo. Talk about the industry and what's happened in the last year and how we're pushing forward.
---
"SURF THE EVENT"
We are going to walk through the event, see what's new and chat about how E3 is helping veterans.
---
"WHAT TO LOOK FOR IN A CARBINE"
"Carbine Product Demos & Reviews"
Live demo/drills and give feedback/conversation. What they look for with different setups? How to properly T&E Rifles? Establish what qualifications the rifles must meet? Present & Demo each rifle. Highlight what is great about each build and make recommendations that could enhance people's experience with the rifle if they bought one.
---
"KIT FOR THE RANGE"
Battle Belts Hosted by Average Joes - Jimmy & Brandon
What is on your belt? What's the starter kit look like for someone getting started on the range? What's the advance setup look like? What are considerations that changed the types of products you use? All these answered and more!
---
"PISTOLS & EDC"
Concealed Carry Hosted by 2 Industry Experts. (Jonas & Brittney Mae)
Perspective from Jonas Polson MIL and Brittney Mae LE/Civilian Trainer. Talent will talk about different pistols and what they look for in a EDC gun. Types of EDC guns and holsters, options & kit that experts carry. Dynamic Live demo working through ALL pistols and providing feedback with friendly comparisons. Introduce classes available for 2021.
---
"WRAP UP & GIVEAWAYS."
Drills and two-man dual competitions between host teams. An opportunity to showcase our hosts and family talent for people to watch, enjoy and become a fan of. This is like a grand finale to see all the products in use at one time.
---