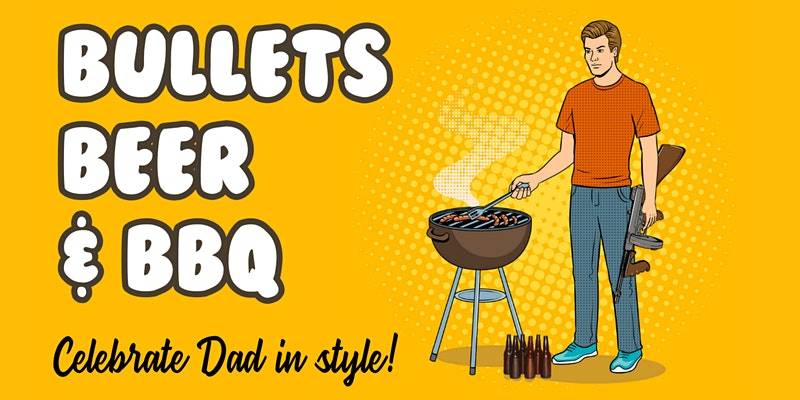 ---
Dad's Day at the Gun Range!
Saturday June 17th, 2023
12:00 PM – 2:00 PM CDT

This year, celebrate Father's Day a little different and leave him in awe of how awesome his family is. Trust us, your dad doesn't need another pair of cargo shorts, or some fancy card that someone else wrote. Instead, get that man what he really wants: Beer, BBQ and full auto Machine Guns!

Dad's Day at the gun range begins with our range safety officer led shooter orientation, covering safety protocols and range etiquette. Next, we'll head into the gun range to shoot handguns, rifles and shotguns handpicked by our armory. Before range time is over, secure your spot as the #1 kid in his life with full auto machine guns!

After we WOW Dad, we'll head out to the patio for some Drinks, BBQ and Patio Games.
Included in this event:

• Ticket price includes admission for (2) guests
• Shooter Orientation and Safety Protocol Overview
• Lane Reservation
• Firearm Rentals
• 9mm Ammo
• One Full Auto Magazine per person (additional mags $30 each)
• Eye & Ear Protection and Targets
• One BBQ Lunch per person and Non-alcoholic Beverages
• Beer for Dad

*Alcohol will NOT be permitted until after you are finished shooting.
*Be sure to wear proper range attire; we recommend closed toed shoes and to avoid low cut shirts
---